Christchurch Physiotherapy and Sports Clinic
The physio team at Christchurch Physiotherapy have a specific focus on active rehabilitation from injury. We have access to Vertex Athletics' training studio and high altitude booth to ensure our clients achieve optimal outcomes. Your physiotherapist will work with you to find the best treatment option for your recovery.
Experienced Physios:

Healthcare professionals who are trained to look below the surface and find out what is really causing the problem and come up with a solution.

Customised plans of care to speed recovery and reduce pain
Focus on personal goals
Integrated care
We work closely with surgeons, specialists and other medical providers to ensure you have the best care possible
Our physios also have expert knowledge to treat complex or chronic pain conditions that may be ongoing from a new or existing injury.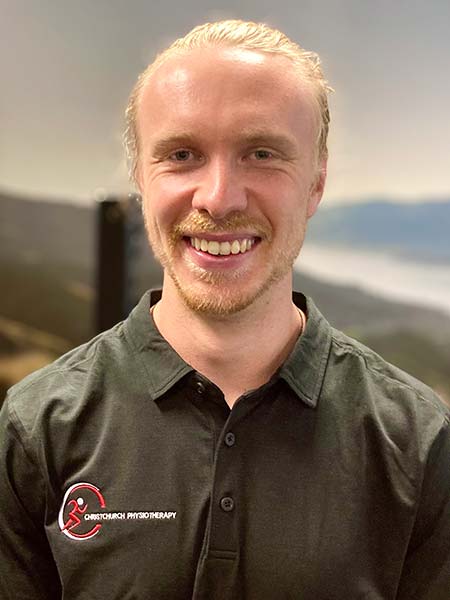 Tim graduated from the University of Otago and gained a Post Graduate Certificate of Physiotherapy endorsed in Occupational Health in 2021. He has worked as a community-based Physiotherapist with a wide range of conditions, musculoskeletal injuries, neurological conditions, and chronic pain. Tim is passionate about helping people achieve meaningful goals and maintain a healthy lifestyle. Outside of work he is a keen mountain biker, surfer and volleyballer.
Jeffrey graduated from Otago University in 2017 and has since worked as a musculoskeletal physiotherapist in private practice and as a Clinical Educator at the School of Physiotherapy Clinics in Dunedin. He has experience working in an acute sports injury clinic treating a variety of injuries from rugby, basketball, netball and football and is the current physiotherapist for the NZ U15 Boys Basketball team.
Jeffrey's clinical interests include pre/post-op rehab, lower limb injuries, strength & conditioning and return to sport/fitness rehab.
Outside of work Jeffrey is a keen basketballer and enjoys spending time with his two staffy labrador crosses.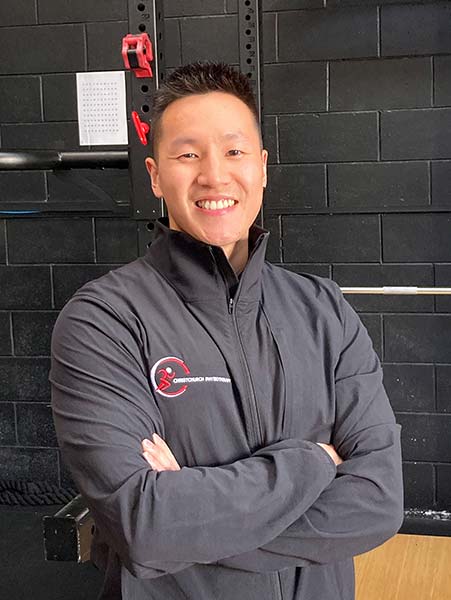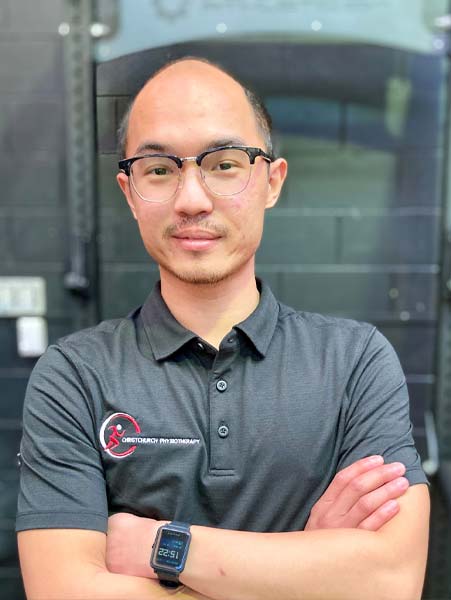 Jack graduated from University of Otago with a Bachelor of Physiotherapy in 2018 and soon obtained a Postgraduate Certificate in Rehabilitation in 2020, and is certified in dry needling and cupping. Previously, he worked with the New Zealand Defence Force, providing vocational rehabilitation services for return-to-work injury. His clinical interests include overuse injuries, return to sport.
Outside of work, Jack is a hobbyist mechanic who likes spending time with his vehicles and is a keen traveller especially on a motorcycle. Apart from English, Jack is also fluent in Mandarin and Cantonese.
Clinical Director, Physiotherapist
PGCertPhty, BPhty, BPhEd, GDPC, DSP
Mike is Clinical Director and co-owner of Christchurch Physiotherapy and Sports Clinic. He is a physiotherapist with degrees in Physiotherapy and Sport Science, as well as post Graduate qualifications in Sport Physiotherapy, and Strength & Conditioning.  His career has crossed over Sports Science, and Physiotherapy allowing him to combine his comprehensive knowledge of sporting performance and his enthusiasm for helping guide young athletes. Mike has over 15 years of experience working with a wide variety of athletes from youth developmental roles to professionals both in New Zealand and internationally; at Harvard University, High Performance Sport NZ, NZ Cricket, NZ Softball, Canterbury Cricket, Netball Mainland, dance and gymnastics, among many others. He has cohesive knowledge of sports performance as a coach and athlete, having played representative rugby as well as competing in athletics, New Zealand's Coast to Coast and other multisport events.
With these experiences and qualifications Mike has a unique position in the industry, being able to encourage and bring out the best in an athlete or team.  Having a passion for working with youth athletes, by supporting the health and wellbeing of our talented young people will ensure longevity of their career for years to come,
Postgraduate Certificate in Physiotherapy (PGCertPhty), Bachelor of Physiotherapy (BPhty), Bachelor of Physical Education & Exercise Science (BPhEd), Graduate Diploma in Physical Conditioning (GDPC), (DSP) Diploma is Sport Performance.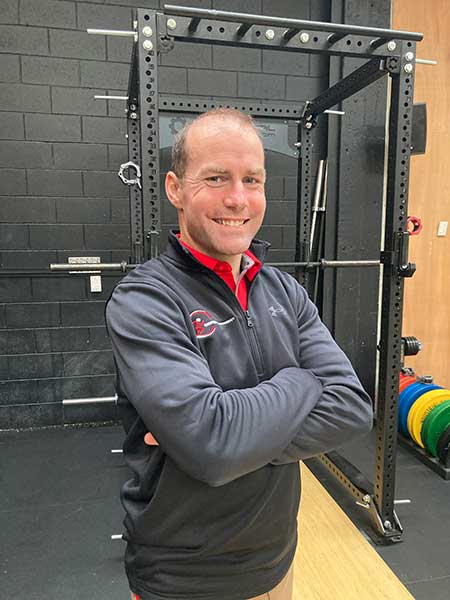 Director, Practice Manager
Here at Christchurch Physiotherapy and Sport Clinic, we are passionate about creating an inclusive and friendly environment for all our clients. My aim is to make each visit as stress free and efficient as possible, so you may focus on your treatment and recovery program with your treatment provider.
My educational and professional background gives me the skills, focus and attention to detail to work effectively with our staff to ensure all our clients programs run smoothly from start to finish. When not at the clinic, I enjoy traveling, being outdoors, and staying active as a family.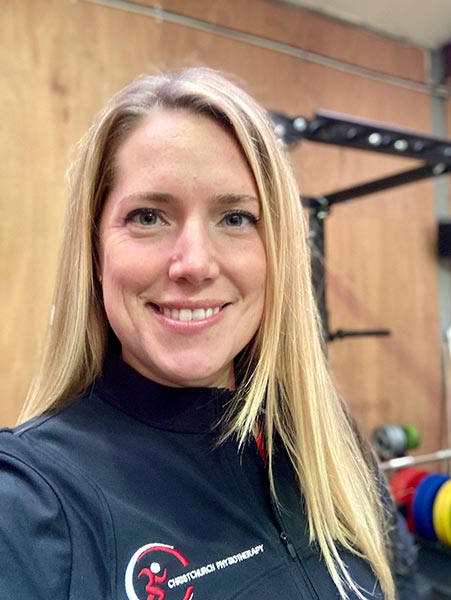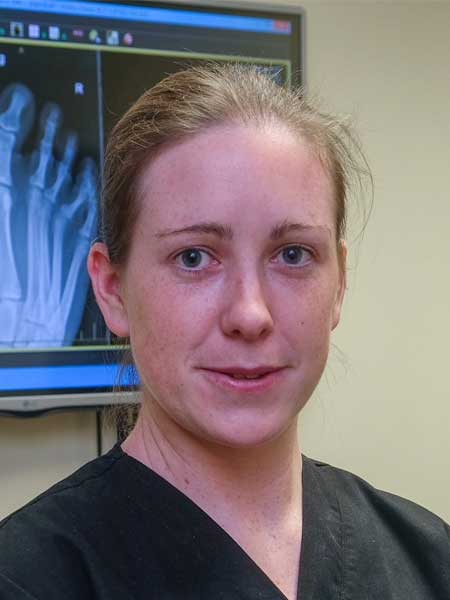 Sherri graduated from Auckland University of Technology's Podiatry School in 2014 and brings 6 years of experience to the team.  She has also completed a postgraduate certificate in health sciences endorsed in musculoskeletal management from the University of Otago in 2018. She specialises in sports injuries, biomechanics, musculoskeletal management, and orthotic manufacture. She also has special interest areas in chronic musculoskeletal pain and Surgical Podiatry including ingrown toenails and verrucas.
Recently, Sherri has moved her podiatry practice from MenNZ to work out of Christchurch Physiotherapy and Sports Clinic and is looking forward to focusing her practice and being part of the team. She is currently undertaking further postgraduate study in pain, and pain management through the University of Otago.